South of the Border is a roadside attraction that needs no introduction. I've written about it before: South of the Border, the Quintessential Roadside Attraction  (if you do need an introduction).
I visited the attraction twice in December of 2019 — once during the day (12/3), and once at night (12/10). During the day, all the shops & restaurants are open for business. At night, the shops are closed & the place becomes a neon ghost town.
I didn't plan on visiting South of the Border at night, but when I passed it — all lit up like a bowl of electric candy — I could not resist. How often do you get to explore a tourist attraction when you're the only tourist? Rare. I stopped, walked around, it was worth it.
I saw one other guy, and we were both taking photos of the giant Pedro statue:
The Hot Tamale restaurant & "hot dog" statue:
Fort Pedro Fireworks store:
Pedro's Pantry convenience store:
Ice Cream shop with Christmas Tree:
Giant neon sombrero tower: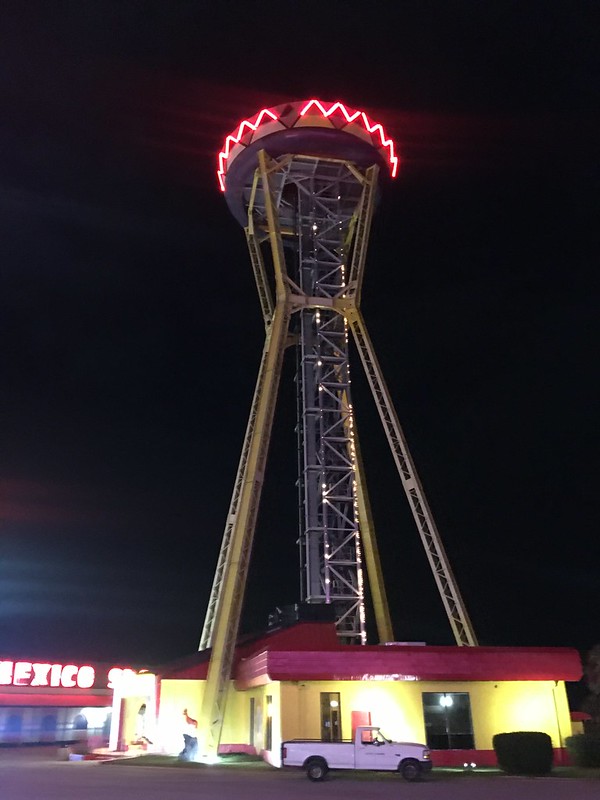 "Never Fart" (Josh) sticker on a dumpster:
The big, colorful neon South of the Border sign visible from the highway: